Product Demonstration: addi FlexiFlip Needles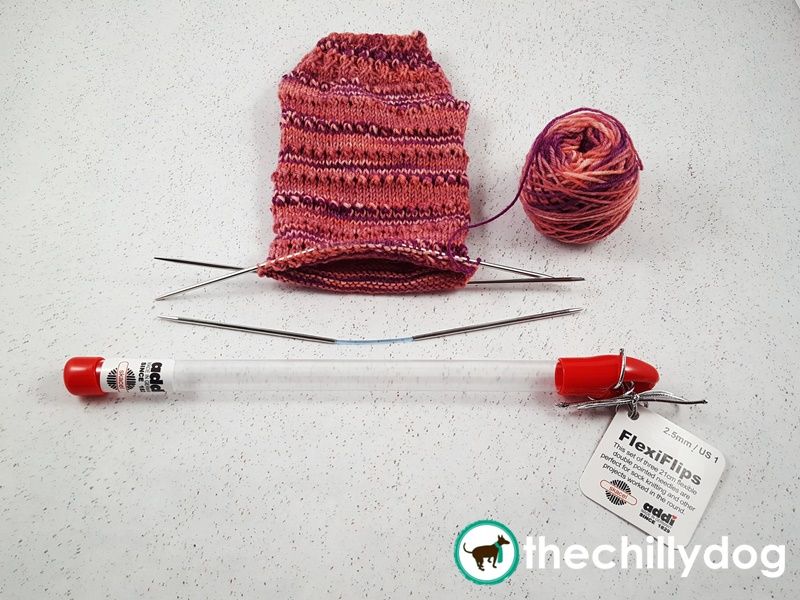 I am a sock knitting addict and first heard about the addi FlexiFlip needles at my local yarn shop about six months ago. I have been chomping at the bit to try them ever since. The needles come in sets of three and are similar to DPN's, but have a short, flexible cord at the center. These needles are especially designed for small projects, like socks, that are worked in the round. But how do they compare to to knitting socks on dpns, magic loop or two circular needles?
The FlexiFlips combine the best of all the other styles of needles used to knit socks and eliminate some common problems.
They are very compact to work with like DPNs or a short circular needle.
The stitches don't accidentally slip off your needles when their not in action like they can on DPNs.
Stitches are divided on two needles, similar to magic loop or using two circular needles, and are worked with the third needle.
There are no annoying "butterfly wings" or loops of cord like magic loop.
There are less needle changes than using DPNs.
When transitioning from one needle to the next, the previous stitch is wrapped around the needle, not the cord, so it's easier to maintain an even tension than with magic loop or two circular needles.
It did take a little practice to get the feel for these needles because they are different than anything I have used before, but after a few rounds it was smooth sailing.
Lesson Notes
Pattern: Azalea Socks - https://shop.thechillydog.com/products/azalea-socks-knitting-pattern-pdf
Yarn: Zitron Trekking XXL
Needles: skacel by addi FlexiFlips
---
Yarn, Needle & Notion Support Provided by