Turning a French Heel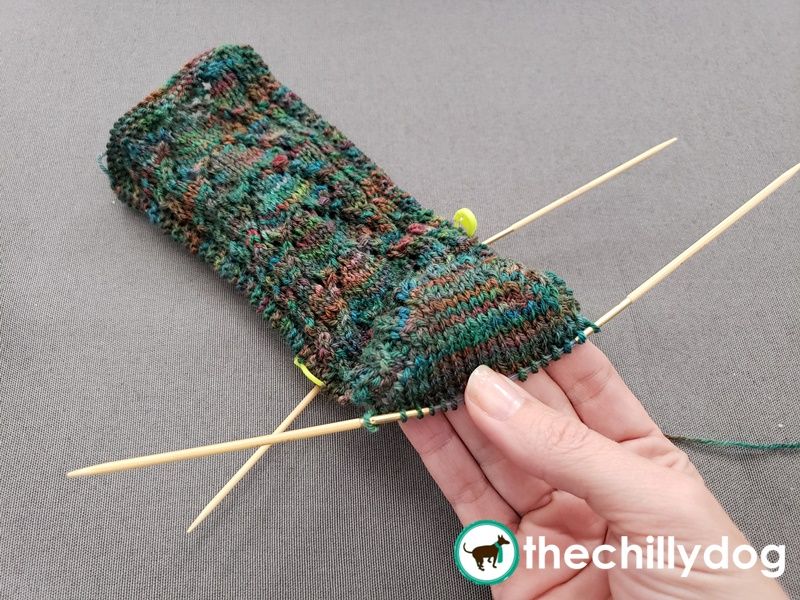 There are a variety of different ways to shape the heel when knitting top-down socks. However, the most common method uses a flap and gusset style heel. The flap is just a rectangular section at the back of the foot that's worked in rows. After the flap is complete, you turn the sock heel. Turning a heel simply means you are adding a little shaping at the bottom of the heel as a transition from working back and forth in rows (for the flap) to working the the remainder of the sock in rounds. (We'll save the gusset shaping for another day.)
The French turn heel is probably the most popular way to turn a sock heel. The shaping creates a little trapezoid of fabric at the bottom of the heel. Another method is the half-handkerchief heel. You probably guessed it, the shaping for this one creates a small triangle of fabric at the bottom of the heel.
For either method, after the first two rows of the turn heel are worked, you can use landmarks in your knitting to determine where the next decrease will be made. That's helpful if you don't like counting the stitches in every row.
Lesson Notes
Pattern: Secret Admirer Socks
Yarn: Schoppel Admiral Cat Print
Needles: skacel by addi Bamboo FlexiFlips
---
Related Lessons
Get the help you need, when you need it with these seven, skill-building tutorials.
Secret Admirer Socks
Lesson 1: Cable Cast On with addi FlexiFlips
Lesson 2: The Meaning of 'No Stitch' on a Stitch Chart
Lesson 3: Knit 4 Together and Slip 4 Knit (k4tog/s4k)
Lesson 4: Right and Left Twists (t2r/t2l)
Lesson 5: Preventing Gusset Gaps
Lesson 6: How to Turn a Sock Heel
Lesson 7: Picking Up Stitches on a Garter Edged Heel Flap
---
Yarn, Needle & Notion Support Provided by

---